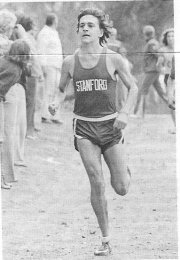 FULL COMPLETE INTERVIEW with former San Ramon Valley HS and Stanford University runner, Roy Kissin. He graduated from SRV in 1975 with PRs of 4:15.81 and 8:53.09. His 1600m. time has recently been passed by two SRV runners (Kevin Griffith and Parker Deuel) but his 3200m. time remains the school record by a significant margin). He was elected to the San Ramon Valley HS Hall of Fame in 2004. He attended Stanford University on an athletic scholarship and was all-American in the 10000m. in 1978. He was also a two time Olympic Trials qualifier in distance events. He is still competing to this day as you can see his times at this link. At the recently completed Dipsea race, Roy won another black shirt that goes to the top 35 overall finishers by finishing in 16th place. An interesting note, Roy was co-writer on the movie On the Edge which is a fictionalized account of the Dipsea race. Definitely one of the better running movies if you can find it.
1) How did you get your start in running? What other sports did you play?
Up until middle school, I was a strictly a B team athlete. In PE, we had to run a lap around a big field, maybe 600m or so. I would jog along with everyone else, but one day when I was in the 8th grade, for no particular reason, I just decided to run that lap as hard as I could. When I finished, I looked back and to my shock saw that I'd completely dusted everyone.
2) Who were your coaches before high school? Highlights?
The PE teacher, Mr. Conrad, an ex-football player from Cal Poly who was one of the very early converts to road racing, called me over and said, "Kissin, from now on, you're running with me at lunch."
That was it. Two or three times a week, Mr. Conrad would take a couple of us running. Well, more like make us. He was an old school guy, kind of intimidating to a kid, and if he said you were doing something you did it. At first, I didn't really enjoy the running at lunch part, but I loved the racing. We ran a few road races that spring and at each one I won my age group, culminating in a Marathon where on practically no training I ran 3:28, under what I if I recall correctly was Boston's first ever qualifying time of 3:30 (nutty, I know -- I could barely walk for a week). On the track, I won the 880 (yards back then) in the county track meet in 2:11.0, which showed a lot of promise.
I will always be grateful to Warren Conrad for plucking me out of a PE class and setting me on the path to becoming a runner. Without his interest and timely intervention at a moment of my own inspiration, I don't know if any of what was to unfold for me would have happened.
3) What about your high school experience? Highlights?
I just remember what a great group of guys we had on our team, and what a blast we had. When I was a freshman, Mike Dayton was a junior who had set the school record of 9:35 the previous spring. Mike was tremendously dedicated, doing doubles, piling on the mileage and really setting a standard for the rest of us. That fall, he won the North Coast Section cross country title, back when it was just one big race, no divisions, and as a team we finished third. I was the top freshman finisher in 25th. In track, Dayton lowered his school record to 9:11.0, while I ran 4:37 and 9:47. So while we were both running well, I wasn't anywhere near the runner he was.
Somehow that all changed over the summer. In cross country my sophomore year ('72 - '73), we went 1 - 2 in every dual meet and invitational, and I was always the runner up, or at least I was up until our league meet, when I finally got the better of him. I went on to finish second behind Rich Kimball at NCS, while Mike finished well back and we never quite the same runner after that. I'd have to say that was my first big highlight, and believe me, no one was more surprised at my placing second than I was, but it did wonders for my confidence heading into track season. I set myself a goal of making it to the State Meet, and I did, running 9:17.2 for 4th at NCS. That race stands out in my mind as the one of the hundreds that I ran the hardest, I mean I almost collapse in the final strides and spent 20 minutes on my knees on the infield afterward. I went on to finish 14th at State on a very hot and windy day at Woodland.
I progressed steadily my junior year, finishing second again to Kimball at NCS Cross Country, but the big thrill was unexpectedly winning the team title over favored Redwood, where, ironically, my son wound up running. In track, I lowered my 2 mile PR to 9:08.0 in finishing 9th at State.
Because I was surrounded by great runners on my own team (Dayton) and nearby (Kimball), I really hadn't won any big races, but as a senior I finally had my chance to shine, going undefeated during cross country. Unfortunately, there was no state cross country championship then, but I did go on to finish
63rd
(66th) in the 1974 AAU National Championship which was held at Crystal Springs that year.
Two weeks later, the Junior Nationals were held in Alameda. At stake was a spot on the team that would be going to the 1975 IAAF World Cross Country Championships in Rabat, Morocco. I remember the race so vividly. There was a pack of 12 to 15 guys fighting the whole way. So many times, I felt my grip on the pack slipping, but each time I fought back, just barely holding on. With 400 to go I was in 7th; only four would make the team and I saw my chances slipping away despite running a great race. At 200 to go there was a Steeple barrier and the guy in 6th hit it and fell! Seeing that lit a fire under me and I hit the barrier perfectly, went flying past a couple of guys, past the great Eric Hulst into 4th, then nipping Ralph Serna at the tape for 3rd and the top high school finisher in the Nationals.
This remains one of the proudest moments of my career. I was the only high school runner to beat both Hulst and Serna in the same race that year. In Morocco, I finished 8th individually as part of the winning US team. That trip was amazing and eye opening in every respect, but probably too long of a tale to get into here!
In track, Hulst, Serna, and I reversed the order of finish at State, going 1, 2, 3, and I broke 9:00 for first time finishing in 8:56.2 (8:53.1c 3200m), a still standing record at San Ramon. I feel kind of lucky Scott Bauhs didn't take it down!
4) Who were your coaches in high school?
My coach at San Ramon was a kind, benevolent, and generous soul named Bob Vincent. I didn't fully understand until I became a parent with kids of my own participating in sports just how much time and love and caring this extraordinary man poured into his work with kids. By the time I arrived, he'd been teaching and coaching at San Ramon for more than 20 years and was already a legend, having consistently produced great teams and individuals in all the track disciplines. The distance program itself was nothing complicated. What I remember is a steady diet of 440s and 220s with lots of steady running packed around it. We also had about a zillion meets, I don't know, sometimes three a week. Certainly not optimal from the standpoint of modern training systems, but what was optimal was the team culture and tradition of competing hard and winning often. We were a high spirited bunch, given to pranks and tomfoolery, but Mr. Vincent had an uncanny ability to harness that energy and channel it toward our competitive goals. Bob Ladouceur, the De La Salle football coach with the best winning record in California history, was our top sprinter and team captain my freshman year. I haven't seen or spoken to Bob in about 30 years, but I'm sure he'd count Bob Vincent among his important early mentors.
But it takes a village as they say. Warren Conrad, my middle school coach, became an assistant at San Ramon when I started. Coach Vincent would always say, "I'm the do as I say coach, Coach Conrad is the do as I do coach." In addition, two San Ramon alums who ran collegiately, Ralph Patten and Terry Chappell, acted as "graduate assistants" with practical knowledge they were eager to share. I'm grateful to all of them for their friendship and guidance.
There's one other person who had a big impact on my high school career. In the off season, I ran road races for the West Valley Track Club, which is those days was a regional, even a national club powerhouse based on the Peninsula. With Coach Vincent's consent, a West Valley teammate named George Stewart started advising me the summer before my senior year. George grew up in Marin and went on to run close to a 4 minute mile at Oklahoma State, where Tom Von Ruden, a 1968 Olympian and a top miler of that era, was the coach. With George's input, my training took on a new level of sophistication, with modified Lydiard-type periodization. He also stressed becoming a hard-nosed racer, always being in it to win it and believing in yourself. I credit George with helping me get to another level my senior year.
5) What do you remember about your training in high school? Miles per week? Distance of long runs? Workouts?
I don't have to remember, I can tell you exact details because I've always kept a log! During track senior year, I averaged 64 miles a week, with a high of 85 miles and a low of 30. The long run was 14 - 19 miles, 2 - 3 hours on the fire roads of Las Trampas Ridge and Mt. Diablo.
That season I raced from January through June, training through pretty much everything except the World Cross Country Champs and the State Meet and post season championships.
Want an example?
_____________
Tues. March 11, 1975
4 miles warmup
3 x 440y @ 64.5-64.9-64.5
6 x 440y @ 67.4-67.8-67.0-67.7-67.7-67.7
3 x 440y @ 62.0-63.0-62.5
110y (30 second) rest between intervals; 440y jog between sets
2 miles cool down with 8 x 110y embedded strides
________________
The next day, I left for Morocco and on Sunday ran in the World Cross Country.
A little later in the season, leading up to NCS/State:
_________________
Tues. May 20, 1975
2 miles brisk warmup
2 x 880y @ 2:06-2:05 (440y jog)
4 x 4400 @ 60.5-59.5-61.0-59.8 (220y jog)
1 x 1320y pace work @ 3:30 (880y jog)
6 x 220y @ 30-29-29-27-27-26 (220y jog)
Cool down 3 miles on trails
_________________
So, to sum up the high school training: No magic formula, just two good quality workouts and a long run every week, surrounded by a decent amount of easy recovery running.
6) Your son Peter ran recently at Redwood HS so you are still familiar with the HS scene. What do you feel were the advantages and disadvantages of running in your era compared to today?
First, i want to say just how fun it's been following the HS scene in general and Peter's running in particular. I don't think I missed more than one or two meets while he was at Redwood. Peter graduated in 2009 and will be a Senior this year at Haverford College in Philadelphia. Haverford won the NCAA DIII Cross Country title in 2010, finished second last year, and will be a strong contender again this year. I try to get to as many of his races as I can, even though it's all the way across the country, because there's nothing quite as exciting as watching your kid run. I get way more nervous watching him than I ever did before my own races!
Anyway, as I see it, the HS scene has changed a lot. Some of the changes are real advantages. In my day, we were lucky if we got to run on an artificial surface two or three times a year, and two of those three would be "rubberized asphalt" which was like running on the roads. Even Cal had a cinder track back then. Nowadays, almost every high school has a modern composite surface that's very conducive to training and racing and better than any track I ever ran on until about my junior year in college. We would have sold our parents to the Taliban to have one of those tracks at San Ramon!
Footwear, same thing. The stuff we wore was primitive compared to what's available today, and I think the technical advances make it possible to train harder and run faster with less chance of injury. 3 oz. spikes? AMAZING.
Of course, it goes without saying that the advances in our understanding of human performance, physiology, nutrition, etc. and the easy dissemination of that knowledge over the internet have revolutionized training at all levels.
As far as disadvantages, the biggest change I see is simply the decline in popularity of track as a spectator sport. It's great that more kids participate, but the context in which that participation takes place has narrowed drastically. The Bay Area used to support two major indoor meets with sellout crowds filling the Cow Palace and the Oakland Coliseum. The Big Meet between Stanford and Cal could draw 20,000 spectators. The stars of the sport like Pre and Shorter were household names and meets were widely covered in newspapers and on TV. It's just unfortunate that there are so many other forms of entertainment competing with track for attention, because it seems like there's less to dream of or aspire to for an up-and-comer. Even though most kids are never going to reach that level, having that dream and feeling part of that scene makes your participation so much more fun and interesting.
7) You ran at Stanford University. Who were your coaches there? Highlights in XC and TF?
Marshall Clark was my coach through my junior year. He left to become head coach and an AD at the University of Montana and was replaced by Dean Clark (no relation) who'd run the Steeple at Washington State. Highlights were hard to come by my first two years at Stanford. I had some decent races freshman year but ran badly at the Conference meet in cross country and got sick and didn't run the conference meet in track. That summer, I suffered a knee injury that sidelined me for 6 months, causing me to miss cross country season altogether and have a totally sub-par track season. So up to that point it was one of those stories that's all too typical: Great high school career followed by a lot of struggle in college.
The big issue from my point of view was rest and recovery; I simply wasn't getting enough of it. For example, following a 10k cross country race on Saturday, there would be a long Sunday run, a fartlek on Monday, repeat 300s on grass on Tuesday, a 10 miler someone would end up hammering on Wednesday, 1000m repeats on grass on Thursday... it just never let up! Reading back through my log, there are all these notations about how exhausted I was feeling before, during, and after workouts. Maybe this was working for some of the guys, but it wasn't for me, and the fact that I wound up injured and sick all the time was hardly a surprise.
I was pretty discouraged but resolved to try and right the ship. Coach Clark and I had a long heart to heart and an exchange of letters about my training, what was working and what wasn't. He agreed to make some adjustments that built more recovery into schedule. I also felt that by building a better base over the summer I would be better equipped to handle a bigger work load. I spent that summer living at South Lake Tahoe with George Stewart, my high school advisor, and a couple of high school rivals who doubled as friends. For the first time, I ran 100 miles a week and arrived back at Stanford in the fall with renewed confidence and enthusiasm. I had a decent cross season though nothing outstanding, but the hard work finally paid dividends in track when I ran close to 14:00 and 29:00 for 5k and 10k, qualified for the NCAAs for the first time and made All American at 10K. Though my times didn't improve much my senior year, I raced better and finished 3rd in the conference meet (won by Alberto Salazar) and 9th at the NCAA in the 10k. This was the era dominated by older foreign athletes, so I was pretty stoked about being 4th American.
I'm sorry to say that my collegiate experience was marked by more lows than highs and the feeling that I fell well short of what I hoped for and expected of myself. I almost drifted away from the sport after college, but once I adjusted to life outside the campus cocoon and connected up with a good training group, I finally got back on track. I was living in San Francisco and trained at various times with John Moreno (2:12 marathon), Bill Donakowski (2:10 marathon and a 10k rival from college), Rod Berry (Stanford teammate) and others -- great runners, all of them. By 1984, I'd lowered my PRs to 13:42 and 28:19, qualifying for the Olympic Trials in both the 5k and 10k. Unfortunately, I sprained my ankle pretty badly the week before the Trials and wasn't 100%, but did make over to compete on the Pre-Olympic circuit in Europe. Looking back, I'm really glad I kept at it long enough to allow some good things to happen and feel like I got at least decently close to my potential.
8) You are still competing to this day. How much running are you doing per week and what has changed training wise in your 40s and 50s?
When I was younger, I never imagined for a minute that I'd still be training and competing at this age. Between ages 30 and 40 I hardly ran a step, which is probably just what I needed anyway after 15 years of hard training and racing. Plus there were other things to do in life, like establish a career, get married and raise a family. We wound up moving to Marin when our kids were little and that's what led to my starting up again. There are just so many great places to run, and I'd always done my Sunday runs on Mt. Tam, so little by little I got back into it as a Masters runner with different goals and a different mind set. I've trained and socialized with folks from the Tamalpa Runners for decades so there's been a strong community aspect to it also.
So I ran pretty consistently through my 40s but didn't really focus on competition until I turned 50. At that point, my son Peter was starting to run, so it was something we could do together at a time when parents and kids often find those points of common interest hard to come by. I also decided that I'd try to break 5:00 for the mile and get a Black Shirt in the Dipsea, two goals I'd failed to achieve in the second act of my running career. Happily, I did both and have maintain that level of competitive fitness ever since.
It turns out that I really, really like the feeling of being fit. Putting on even a few extra pounds just feels lousy to me -- I know, having weighed as much as 25 lbs more than I do currently. And having even modest race goals helps me with the discipline of eating well, getting regular sleep, and managing stress.
The other thing that's kind of surprising is that running a 5 minute mile now feels no different than running a 4 minute mile did then, and it's just as much of a kick. I ran my old fart PR of 4:50 when I was 51, a mark that's as satisfying as any I achieved in my prime.
As far as training now, I tend to go in cycles that vary with my energy, interests, and other commitments. I might run 30 - 40 miles a week and take lots of days off for months at a time, then get interested in something, say, breaking 5 minutes for the mile or 17 minutes for 5k, and crank it up to 60 miles a week or so with good quality workouts a couple of times a week. I still love training on the track and racing in spikes. It feels like home.
9) You have competed in many Dipsea races. How led you to your first Dipsea? What has been your best finish? How many black shirts have you won?
I ran my first Dipsea in 1982 as we were preparing to make On the Edge. As a track guy mainly, I was a nervous about the potential for injury but since the movie was based on the race I really couldn't avoid it. So I ran in 1982, finishing 11th, and again in 1983, finishing 5th. I didn't run the race again until 1996 or 1997, but never finished higher than 59th (and sometimes much, much lower) until I turned 50, got my act together and came in 13th. That set the current record of 24 years between Black Shirts. Last year, I had a really good run and finished 7th, so I figured that if I just trained harder I could make top 5. Naturally, all that hard work really paid off with this year's 16th place finish. Jeez. Just goes to prove once again that Easy Does It.
But I can't complain. As one of my friends told me when I said I'd been hoping for better, "I'd sell my mother to the Taliban to finish 16th." Any finish that gets you a Black Shirt is by definition a good finish. I have 7 of them and hope to get a few more before I'm through.
The Dipsea is very important to my continuing motivation to train. It's such a challenging race, there's no faking your way through it. Plus here in Marin a Black Shirt gives you cred and bragging rights among your running buddies -- as long as you renew it every year. At this point, I've run so many races over the course of my life that it takes something really special like the Dipsea to get me out of my chair.
10) You have a lifetime experience in running. What would you say are the keys to being a successful runner and racer?
I like the way you make a distinction between success as a runner and success as a racer. To me, being a successful runner means, first and foremost, developing the habit and cultivating a love of the sport for its own sake and on its own merits, for whatever it gives you and you want out of it. Life can get chaotic at times, and when it does, your running can help keep you focused, organized and grounded. It's simple. You get out there every day, or you don't. Your choice. I've been a runner. And at points I've not been a runner. Being a runner is better. Life is better.
Success as a racer means ratcheting that self-discipline up a notch or three. I was always meticulous in my dreaming, goal setting and planning. The groundwork for the championship race I ran in June was laid the previous July and in the months in between. In a race itself, there's a kind of situational awareness you need to develop -- knowing where you need to be when, what moves you need to cover, etc. Just conceiving of yourself as a tough, hard-nosed competitor who wants to win, however you define winning. It may be winning the race outright, or it may be beating that rival you're close to but have never beaten.
11) As you look ahead, what are some of the races or barriers coming up for you?
Other than the 2013 Dipsea, nothing. I'm just planning to cruise and run easily for a few months and then start to crank it up again. Wait, I am planning to going back to run in the JV/Open race at the Paul Short Cross Country Invitational at Lehigh University on September 28th. Haverford will be in the University division so it's a chance to see Peter and his team compete. I also ran in the 1979 NCAA XC Championship on that course, so it's a trip down memory lane. It's a big meet in the mid-Atlantic region on a spectacularly beautiful course, so I'm really looking forward to that. I will probably be the oldest guy in the race by 25 - 30 years.
Barriers? While up to now I'm not any slower than I was 5 years ago or even 15 years ago, I'm starting to wonder when aging is going to noticeably affect my performances. At that point, I will either retire or shift my goal from breaking 5 minutes in the mile to breaking 6 minutes. Probably the latter.
12) Anything else you would like to add.
Haven't I said enough? ; )