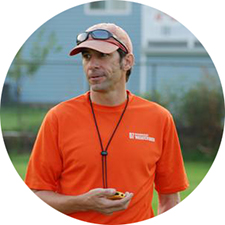 Today we chat with American Fork HS (Utah) coach, Timo Mostert (photo to the left is courtesy of milesplit.com). For those of you not familiar with American Fork HS, his boys' cross country teams have won the NXN Southwest championship 2 years in a row. Those two championships followed an 8th place finish in 2010 and a 6th place finish in the 2011. With the virtual conclusion of the Track and Field season, the Cavemen (yes, that is their mascot) are ranked 3rd on the Postal 5 x 3200m. list with an incredible 9:14.89 average. Their 5th 3200m. runner has a 9:25.75. Timo has coached at American Fork since 1998 and they have participated in the state championship every year during his tenure. They have won 3 state championships and recorded 4 runner up and 10 top 5 finishes.
1) What were your sporting experiences during your youth? Highlights and accomplishments?
I grew up in Illinois. We played sports all year long since grade school: football, soccer, basketball, track, baseball. I even wrestled my sophomore year before moving cross state from Quincy to Champaign. My junior year, our XC team made it to State. I ran the 3200 at State my senior year and set our school record.
2) Who were the coaches that had the biggest impact on you? What did you learn from them?
I was blessed with great coaches. Both my high school coaches (Angelo Rinchiuso at Quincy and Dike Stirrett at Champaign Central) are in the Illinois Coaches Hall of Fame. I learned consistency in training and the components of distance running from them. I still use many of their workouts. My college coaches (Lee LaBadie at Parkland College and Sherald James at BYU) gave me a both a philosophical and a practical foundation for coaching distance.
3) What led you into teaching and coaching? What do you teach?
Looking back in my life, all the way to 6th grade, I had been given opportunities to tutor my peers. After a year of college studying engineering, I felt the desire to coach and teach, so I switched majors. I teach mathematics and have a minor in coaching.
4) What was your first coaching experience? What did you learn from that experience?
Out of college, I taught and coached for 10 years at Murray High School in Utah before moving to American Fork High School. I learned that high school kids are capable of handling more than most coaches expect. If your training philosophy is sound, and you can get the kids to buy into it, then they can consistently improve and the team has success.
5) When did you start at American Fork HS? What was the state of the program before you started coaching there?
I moved down to American Fork in 1998. The program was moderately successful; they had been to State 9 of the previous 10 years with a top finish of 4th. The previous two coaches had been paraprofessionals from the community and there was only 8 boys on the team the year before.
6) What changes did you have to make from the previous regimen that enabled those teams to compete at the state level?
Just being at the school helped with consistency in practices and I started doing morning runs, which the boys had not done before.
7) Who were the first runners that really bought in and helped elevate American Fork HS to it's current level?
I had a series of good Senior captains who had a desire to go to the next level: Jeff Hunziker, Dale Golding, John Bell, Mike and Ben Felix, and Robby Lee.
8) From the first year to now, what changes have you made in terms of training? What have you added?
We've increased summer mileage, incorporated more core work in our weight regimen, and slightly increased the distance on our weekend long runs. Most of the workouts are about the same.
9) What are your expectations for your runners during the summer? What does a typical week look like for your runners during the summer? Middle of the season? End of the season? Typical mileage per week for your juniors and seniors?
We run 6 days a week, even beginners. We start them off with low daily mileage (25-30 min.) and gradually build over the Summer. Experienced team members are between 45-70 miles per week with a goal of 750 miles on their Summer mileage chart (Memorial to Labor Day). Once the season starts, we usually go through a 3-4 week cycle keying lower mileage weeks for certain invites, State, and Southwest Regionals.
10) What do you feel are the key workouts during the season for your teams for XC? Ancillary work?
Every workout is key and has a purpose of improving one of the components of distance running. Increasing our weekend distance runs to 70-90 minutes is one that has probably helped the boys improve their XC performance the most.
11) Advantages and disadvantages to the training area around American Fork HS?
We're at 4700 feet altitude, so that's beneficial for cardiovascular improvement. American Fork is situated between an 11000 foot mountain and a lake, so we can run on flat farmland or hills and trails, or both on the same day.
12) What are the training difference for your distance runners when it comes to cross country and track and field?
Really not much difference at all, except maybe only 2-2.5 miles of repeats in track instead of 3 or 4.
13) From your high school competitive days to now, what have been some of the positive changes for high school cross country?
I think the biggest is the advent of Footlocker and NXN and the availability of information on the internet. Kids don't have to wait for Track and Field News or The Harrier to come once a month to find out what's going on. Many teams in Utah have team blogs, so you can see how they are doing anytime you want. The desire for success at regional and national competitions have been big motivators for my boys the past few years. I also think the invention and affordability of GPS watches has allowed athletes to monitor pace and distance more accurately on runs and in workouts giving them instantaneous biofeedback.
14) You are still competing in masters competition. What events do you compete in and what have been some of your accomplishments?
My competition schedule isn't as full as it used to be. I'm on a sponsored master's team for our state's Ragnar Relay. There are a few local road races I enjoy competing in. I have participated in master's track in the steeplechase and other distance events. I ran the coaches 1600 at the Simplot Games 20 times.
15) Anything else you would like to add.
Last week I had the privilege to coach our state's all-star distance squad at The Great Southwest Classic. It was a treat to work with them. Distance kids really are the greatest.
Thank you very much for your time Timo! AJC