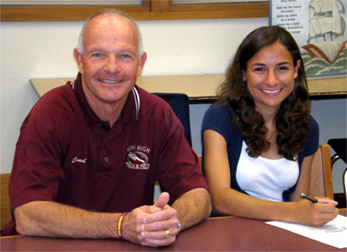 Today we chat with Simi Valley HS coach, Roger Evans (photo to the left of Roger along with former athlete Anna Sperry courtesy of www.dyestat.com). This past season, the Simi Valley girls' team ended the Saugus girls run of state championships at 7 with a narrow 5 point victory in Division II. Senior, Sarah Baxter, won her 4th straight state individual title to join Montgomery's Sarah Bei and Mission Prep's Jordan Hasay as the only individuals to win 4 state individual titles. Under the tutelage of Evans, Simi Valley has finished in the top 5 at state the past four seasons in two different divisions and qualified for NXN 2 out of the last 3 years.
1. What was your athletic experience as a youth? What sports did you play?
I have always loved running and as a child I was known for being the fastest one at school and I could outlast everyone. My mother claims that I walked around nine months and that I was a child who was in constant motion. On the schoolyard and in the neighborhood we played seasonal sports of baseball, football, basketball and there were constant games of kick-the-can, tag, Red Rover, hide and seek. These were the days before constant monitoring by parents and youth sports. Little League was the youth sports organization available and baseball was THE sport. My high school sports were football, wrestling, baseball, and track (400M). I also wrestled one season at Cal State Northridge (San Fernando Valley State College in my day).
2. What led you into teaching? How long did you teach? What was the most satisfying part of teaching?
When I entered community college I didn't have a particular direction for a major so my counselor suggested that I work toward a teaching credential since every community has schools so that would ensure the availability of employment. As I worked toward my degree in sociology, history, English, and physical education I continued to take a course in the Education Department. By the time I was a senior it was plain that being a teacher and coach was my calling. I retired from teaching in 2008 after 36 years as mainly an English teacher (I also had taught P.E., Health, Social Studies, and was a Reading Coordinator for my first four years at Simi High). My last 30 years of teaching were at Simi Valley High School. I never saw teaching as a job – it was a career of service to our society. The rewards of being a teacher comes from seeing the growth, maturity, and intellectual development of students.
3. How did you end up coaching the cross-country team at Simi Valley?
When I was hired as a teacher at Simi High in 1977 I was to coach football but my wife and I were expecting our first (and only) child so I refrained from coaching and its time commitment until my daughter reached junior high school. But I did get caught up in the running craze of the 1970's and 80's where I competed in tons of road races (from 5K's to half-marathons). When my daughter turned 7 years old she joined the local track club and I coached her teams until 1990. In 1990 the girl's cross-country/track coach left the school district and there was no replacement. I had two of the four girls from the cross-country (that's right they had only four athletes) in my Honors English class. They asked if I would be the coach but I did not feel qualified since I did not have high school coaching experience. As summer was to begin and there was still no cross-country coach I approached the principal and told him I would be willing to work with the girls until a replacement coach was hired. The principal looked at me and asked, 'You're a running, right?" I replied, "Yes". His reply, "Then you're hired!"
4.What was the state of the program when you first took over? What changes did you make?
The girl's program was in complete disarray. For the previous five years the girl's team did have more than four athletes and one year there was only one girl. First I met with the four returning girls and told them to recruit friends and I sought students from my Honors classes (as we know honors students are dedicated, hard working, goal oriented, and plan for long term rewards). I had a meeting with interested athletes and set about goal setting and what would be required to achieve goals. Our first year we had 16 girls and we finished in 4th as a team) in the Marmonte League – missing advancement to CIF-SS Prelims by 6 points. The next we advanced to prelims and our top runner, Rikke Pedersen, finished 14th.
5. During your tenure coaching cross country, who have been your coaching mentors that you feel have helped shape what you do now?
There have been and continue to be so many coaching influences that to name them all would take pages and pages. I was green and raw when I began so I sought any and all advice I could gather. During my first year I heard about Runner's Workshop and the next summer we spent a week at the Catalina Camp. Evenings were spent with roundtable discussions among the coaches and I was an avid listener. The quality of these coaches both in experience and as quality people shaped my foundation that is instrumental to my coaching today. Included in this group were Tim O'Rourke, Bob Messina, Joe Kelly, Jack Farrell, Steve Scott, Brent Thorne, and Randy Rossi. Also, Ventura County and Marmonte League mentors include Bill Duley, Mike Stewart, Mike Smith, and Brian Fitzgerald. Additionally, during the past 10 years or so George Ramos, Jay Stepp, Bill Vice, Jeffrey Messer and Rene Paragas along with the LA84 Clinics have profoundly changed and improved our program.
6. What does a typical week look like for your team in the middle of the season? Key workouts? Distance of long run? Ancillary work?
During the middle of the season we aerobic strength and power with 2 ½ hard workouts per week along with a 3-4 mile tempo run. We vary the type of power workout but the energy system and goal remains constant. One workout that we find beneficial (and even the athletes like the workout) is what we call AmTrak Hill. This location has rolling hills and when we do 1,000 meters the last 200 meters is up challenging hill. We can also do 800's, 400's and hill repeats at this location. We also do cruise miles (5-7 depending on ability level) and we do 60-80 yards sprints (6-8) at the end of the run on Tuesday. Monday and Saturday are our long run days(8-12 miles). We finish the long runs with a "pick up" mile that is sub-cruise (varsity = 5:50-6:10). On Saturday we incorporate what we call LT'S during the run usually starting after 15-20 minutes. LT's are fast paced surges. These surges can last anywhere from 5 minutes to 30 seconds with 1 – 3 minutes steady state recovery. We like to get 20-25 minutes of surges completed. We do ancillary exercises after every practice consisting of core, bridge (plank), frog hops, one-leg/two-leg hops, push-ups, lunges, etc.
7. What changes are made during the post season? What does it take to deal with juggernaut that is the SS and the state meet?
We don't change too much for the post season other than decreasing our volume but the workout intensity remains constant. As challenging as it is to compete in the SS and the state meet I find that the high level of coaching and team competition has made the team and myself much better. We know that to achieve at a championship level requires heightened commitment and focus.
8. You have coached Sarah Baxter the past four years. What have you learned from coaching her?
As was Anna Sperry and Liberty Miller before, Sarah Baxter is a coach's dream. Her dedication to her teammates and to the sport is unparalleled but it is her innate drive to succeed that I find so remarkable. As a freshman her primary goal was to be undefeated. Sarah is an example of what can be accomplished with the setting of extraordinary standards and is willing to work at a high level to succeed. This, however, is what most athletes do so it is not an uncommon attribute. But Sarah's accomplishments have certainly made me look smarter than I am!
9. Your team has qualified for 2 of the last 3 NXN meets. Can you tell us a little about that experience as well as the meet itself?
Competing at NXN is an experience of a lifetime. Everything Nike does is highly organized and first class. It is so remarkable to meet, run, converse, and dine with world-class athletes and to be with the nation's top teams and individuals as well. It is also an opportunity to meet great coaches from across the United States. Aside from the adverse (at least adverse for Southern Californians) the meet is showcased in a classy manner. The condition of the course this year was highly improved over the conditions when we competed in 2011. Maintenance crews had been working on the course since the first part of November and they continued the work up till race time. Of course, the generous sportswear and gear granted to each athlete is quite astounding as well. I know the memories from our two NXN trips is a common center piece of conversation among the team.
10. From your perspective, what are the key components to successful teams?
I think successful teams are coach driven but athlete centered with coaches who remain with the program to guarantee continuity. Success also comes from the strength of team unity, traditions, setting high standards and expectations. Equally important is absolute commitment to arduous training, academic achievement, dedication to healthy life choices, and being humble, respectful, and kind-hearted. Good people will make good teams.
Thank you very much for your time Roger! AJC