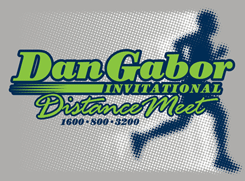 1:50.70. State Champion. These were the high school accomplishments of the man who this invitational
is named after. With a resume like that, it is no wonder that the meet's original slogan was "Run like
Dan." On the eve of another Dan Gabor Memorial Invitational, athletes all over the Bay Area, and some
from beyond, are going to bed hoping that they will come to the Dan Gabor Invite and run like Dan.
In the 3200, which features 20 athletes with sub 10 minute credentials, we will see 3200m runners, like
Miramonte's Tyler Hanson and Dillon Reed (top seeds ) strive to run like Dan. And in the women's 800,
which is the toughest field of the day California's Madison Ricks (2012 state finalist in the girls' 800) and
Healdsburg's Maria Barragan (2012 state qualifier in the 800) will strive to run like Dan. But "Run like
Dan" is more than just running fast and winning a race. "Run like Dan" was always more about attitude
than it was about speed. Beyond the Pr's, Dan Gabor's races were both demonstrative and fearless.
He had a unique ability to dictate a race from the front, middle or back of the pack. Although this story
has probably been greatly embellished over time, the legend of Dan Gabor's state meet race highlights
Dan's racing persona on the biggest stage as well as any other story could. It has been told, that when
Dan ran in the state meet his senior year, he found himself well behind the leaders with 200m to go.
He made a decisive surge and although he was running faster than everyone in the race at the time,
found himself boxed in. Rather than losing momentum and waiting for a hole to open up, or swinging
wide and running extra distance, Dan ran right up to the shoulders of the runners in front of them and
yelled, "MOVE" at the top of his lungs. The runners were so surprised that they parted like the red sea
(or maybe it was a purple sea, if it was the Amador Valley gods who were listening), and Dan ran right
through them for the victory.
It is in these rare moments when an athlete captures that kind of reckless control that special things
happen. When everybody in the crowd wonders, "What in the world is that person doing?" and the
person knows all along that it is going to work. Dan seemed to have these moments often, but you have
to wonder if Branson's Julia Maxwell, the lone state champion competing this Friday, felt that way at
the NCS Cross Country Championships this past fall. When she took off at a blistering pace even after
watching all the boys in the previous races struggle in the mud, did she know she was going run 17:22?
Did she know that she would finish more than 30 seconds faster than the 2nd fastest girl on the day, like
Dan knew that everyone would move out of his way when he screamed at the top of his lungs? Or how
about her closest competitor, Jena Pianin? When she was closer to Sarah Baxter and Hagen Reedy at the
mile mark at the state meet than she was to the fourth place runner, did she know she'd be able to hang
on, like Dan knew he'd be able to catch up with 200m to go?
Most importantly though, "Run like Dan" is not reserved for only the fastest athletes. It is not just
Steven Grolle, the 4:20 1600m runner from Sonora that has a chance to "Run like Dan". It is also for
runner's like Vanden's Aiden Schraer, trying to run under 4:30, and Campolindo's Ellen Hann trying to
stop the clock in under 6:00. It could be Livermore's Alexandra Hernandez who runs like Dan, trying to
make a name for herself amongst the studs in the girl's 3200, or Monte Vista's Daniel Christman trying
to fight it out for a T-Shirt in heat 7 of the boys' 800m. Until tomorrow night, we don't know who or how
many people will "Run like Dan". For all we know it will be Amador Valley's own Ysabel Thorn, running
her first race ever in Heat 4 of the girls' 1600. At the end of the night though, the ones who will look
most like Dan, will be the boys in Heat 13 of the boys' 800. Who will it be that walks away this year with
that coveted Dan Gabor 800m trophy? Will it be top Acalanes' top seeded Adler Faulkner, Maria Carillo's
talented 2-lapper Dante Hay, Amador Valley's state meet qualifier Conner McKinnon, or will someone
else swoop around the last 200m and tell the big boys to "MOVE!!!"?