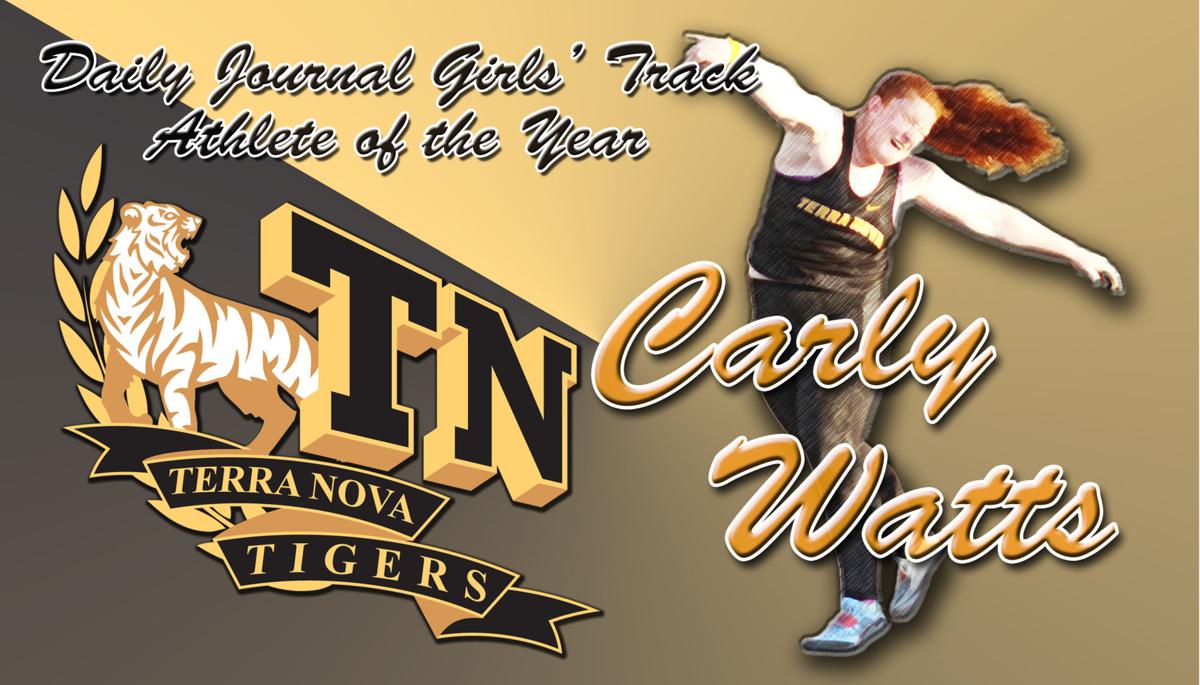 Today we chat with one of the top throwers in California, Terra Nova senior, Carly Watts. She really came into her own last season when she swept the shot put and discus events at CCS and finished in 6th place in the shot put at the State Meet. She has been more impressive this season with new personal bests in both events. At the St. Francis Invitational, Watts threw a best of 146'7" in the discus. This past weekend, Watts posted a new best in the shot put with a winning effort of 45'6". Those marks place her 10th (shot put) and 15th (discus) on the all-time CCS marks for those events.
1) What sports have you participated in aside from Track and Field? How long did you play those sports and any highlights?
I played soccer up until high school and then Freshmen year I decided to play water polo. I played water polo all four years and won MVP my junior year and made first team all-league my junior and senior year. In the Fall, I play goalie for Terra Nova's Water Polo team. I was the MVP my Junior year as well as 1st-team all-league both Junior and Senior year.
2) When did you get your start in Track and Field? What events have you done aside from the shot put and discus?
I began competing in track and field during my freshman year. Shot put and discus are the only events that I have done.
3) What do you remember most about your freshman and sophomore seasons on the Track and Field team? Highlights? What did you learn?
I wasn't too involved during my freshman year. Both my older brothers were throwers on the team when I was a freshman. I didn't feel successful in the sport until the track finals of my sophomore year. I won the discus and placed 2nd in the shot put. That night, during dinner with my family, I made the decision that I wanted to train diligently in throwing and break the 30+-year-old school record.
4) When you do you feel like you made your biggest breakthrough in high school and what do you feel led to that breakthrough?
The biggest breakthrough probably came at the K-Bell Invitational when I threw into the 130's for the disc for the first time. The hours of training starting in June and the relentless determination of trying to take a school record was the main reason why that breakout occurred.
5) You had a terrific junior season. What were some of your highlights and proudest achievements?
My proudest achievements my junior season was breaking my school records, winning PAL/CCS then placing 6th at the state meet. Specifically, the state meet is a competition like no other. In the final round of the shot put, I was in 8th place. I knew that the 6th place podiums and that was a truly surreal moment. I had to calm the nerves and really just leave it all out there.
6) Who have been your most influential coaches in your athletic career and how have they helped you get to where you are today?
My most influential coaches have been my throwing/ lifting coach Rene Nielsen and our head track coach Jared Steele. Both have pushed me to become a better person and athlete while always believe in me.
7) What does a typical week look like for you during the Track and Field season? How often are you throwing? How often are you in the weight room? What else are you doing that you feel help you during competitions?
During the Track season I lift Tuesday-Thursday before school then after school, I do my track workout (jumping, sprinting etc) and then I throw. During weeks that I don't have a meet, I do at least 100 throws during practice with differently sized implements. On the weekend I lift and do cardio while giving my body a rest from throwing.
8) Favorite TF invitational? Favorite TF event? Favorite TF workout? Favorite team tradition? Favorite free time activity? Favorite movie? Favorite song?
K-Bell will be special since that was when I had my first breakthrough throws during Junior year. I'm also going to Arcadia for the first time this year and am definitely excited to try and put together a good performance against some tough competition. I have mad respect for athletes that run the 3200m and it's cool to watch them grind it out for 8 continuous laps. During my free time, I enjoy watching "Workout Wednesday" clips on youtube and sleeping.
9) What would you say is the toughest part of playing water polo? What about participating on the Track and Field team?
The toughest part about water polo was the conditioning we had to do. My water polo coach had us doing a lot of swimming and I would do goalie specific drills as well.
10) Have you made your decision about where you will attend college? If so, where and how did you make that decision? If not, have you narrowed your choices down and when do you think you will make your decision?
I have not committed to any colleges yet.
(Carly has since committed to Northern Arizona University).
11) What would your advice be for a freshman girl just starting to throw and with big goals for the future?
My advice to a young female thrower would be to stay consistent and to not give up when the training gets difficult. I'd tell her that "you can't have a million dollar dream with a minimum wage work ethic". Set high goals and refuse to be deterred from them.
Thank you very much for your time Carly! AJC