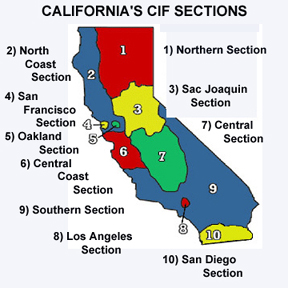 The following is a proposal by EBAL coaches (in NCS) in order to have equitable competition at the California State Cross Country Meet. As it stands now, teams in several Northern California sections are competing at the state meet against much larger schools (which is quite an advantage).

NCS divisional restructuring proposal:

D1 = 2400+
D2 = 1900-2399
D3 = 1250-1899
D4 = 500-1249
D5 = 1-499

We propose restructuring the NCS cross country divisions beginning with the fall 2010 season per the attached spreadsheet for a variety of reasons. First, it is important to consider why there are divisional structures in the first place. The idea behind these divisions are, presumably, to facilitate fair competiton. (The rationale behind the division of a section by school size is that bigger schools have a larger pool of students to draw from and therefore have a greater chance of fielding faster teams. Empirically, this is the case. Virtually every year the teams in division 1 are faster on average than the teams in lower divisions. There may be a few teams here and there that buck the trend, but the trend is undeniable.)

So what does this have to do with the NCS? We have equally divided sections to ensure fair competition. As you are aware, each section in the state is free to set divisional cutoffs where they will (except for the top end of D4 and D5). For example, in the southern section--by far, the biggest section in the state--leadership has decided to divide the schools into divisions as evenly as possible as well. So the problem arises when teams from NCS have to compete against teams from other sections where the section leadership has set divisional cutoffs higher than ours--in some cases much higher. When that takes place, many NCS teams are no longer competing against their peers on the proverbial level playing field. For example, 7 teams in NCS division 1 would be D3 schools in the Southern Section.
It is worth considering the pros and cons on this proposition, of course. As we see it, the only drawback--and a temporary one at that--is that NCS Division 3 will grow and some teams in that division will find it somewhat harder to qualify for the state championship. However, this is merely a temporary situation because adjusting our divisional structure to reflect numbers that resemble those in the Southern Section will actually earn NCS more berths in the state meet over time, so that the number of our most competitive teams who have the opportunity to compete at the state meet will actually go up. In addition, greater success at the highest levels of competition will breed a sense of greater pride and excitement in cross country. In turn, this will strengthen the sport in our section. One might point out that other sections have divisional cutoffs that are even lower than ours. In response, we would point out that those divisions are penalizing their athletes just as we are currently penalizing ours. If we were members of those sections, we would be presenting this proposal to our leadership there.
The bottom line is that the current system in unfair to the NCS teams in Division 1 and 2, primarily, who are not competing against their peers. In these cases, the divisional structure is doing the opposite of what is was intended to do; it is making the competition inherently unfair for our athletes. The system isn't fair and we owe it to our athletes to adjust it.
Thanks for your time and attention.

James Logan 4315 9 teams
Berkeley 3418
Deer Valley 3349
Castro Valley 2920
Antioch 2824
San Leandro 2675
Amador Valley 2590
California 2435
Pittsburg 2406
-----------------
Freedom 2385 20 teams
Granada 2330
Foothill 2298
Monte Vista 2207
Mission SJ 2156
Newark Mem 2155
Heritage 2114
De La Salle* 2102
Livermore 2076
Liberty 2057
College Park 2053
San Ramon 2032
Irvington 2032
Santa Rosa 1998
American 1989
Arroyo 1980
Mt. Eden 1962
Washington 1946
Casa Grande 1909
Alameda 1902
-----------------
Clayton Valley 1876 28 teams
Windsor 1781
Rancho Cotate 1771
Montgomery 1756
Ukiah 1720
Hayward 1685
Carondelet* 1622
San Lorenzo 1618
Maria Carrillo 1590
Concord 1543
Dougherty Valley 1503
Northgate 1496
Dublin 1490
Redwood 1477
Las Lomas 1456
Tennyson 1450
Eureka 1409
Campo 1408
Petaluma 1385
Acalanes 1368
YV 1365
Alhambra 1349
JFK - Fremont 1337
Novato 1346
Albany 1330
Sonoma 1320
Miramonte 1280
El Cerrito 1257
-----------------
Piner 1242 20 teams
Encinal 1210
Bishop O'Dowd 1200
Hercules 1196
Tamalpais 1128
Terra Linda 1114
Sir Francis Drake 1056
San Marin 968
San Rafael 934
Moreau 900
Cardinal Newman 892
Arcata 868
El Molino 864
Piedmont 864
Marin Catholic 745
McKinleyville 663
St. Mary's 617
Justin-Sienna 606
St. Pat/St. Vincent 603
Willits 547
-------------
Cloverdale 446 22 teams
Berean Christian 441
Lick Wilmerding 440
St. Joseph 417
Marin Academy 403
SF Univ. 389
Upper Lake 385
College Prep 352
Urban School SF 350
Head-Royce 337
Stuart Hall 328
International HS 318
Athenian 300
Bentley 297
South Fork 261
Redwood Christian 253
Chinese Christian 225
Sonoma Academy 212
CA School for the Deaf 186
Rincon Valley Christian 165
Santa Rosa Christian 92
Leadership (Hayward) ?
* M or F only

Divisions for 2009 (as you can see, sections have the ability to determine their own #s)
SS
I 2640+
II 2160 - 2639
III 1251 - 2159
IV 501 - 1250
V 1 - 500
NCS
2051+
1601 - 2050
1151 - 1600
500 - 1150
1 - 499
SDS
2490+
2001-2489
1251-2000
315-1250
1 - 314

SJS
2191+
1701 - 2190
1126 - 1700
301 - 1125
1 - 300

CCS
1945+
1564 - 1944
1214 - 1563
501 - 1213
1 - 500

Any thoughts on this proposal? Any other ideas on how we can make the state competition in XC fair? Are you more concerned about doing well in your own section or at the state meet?