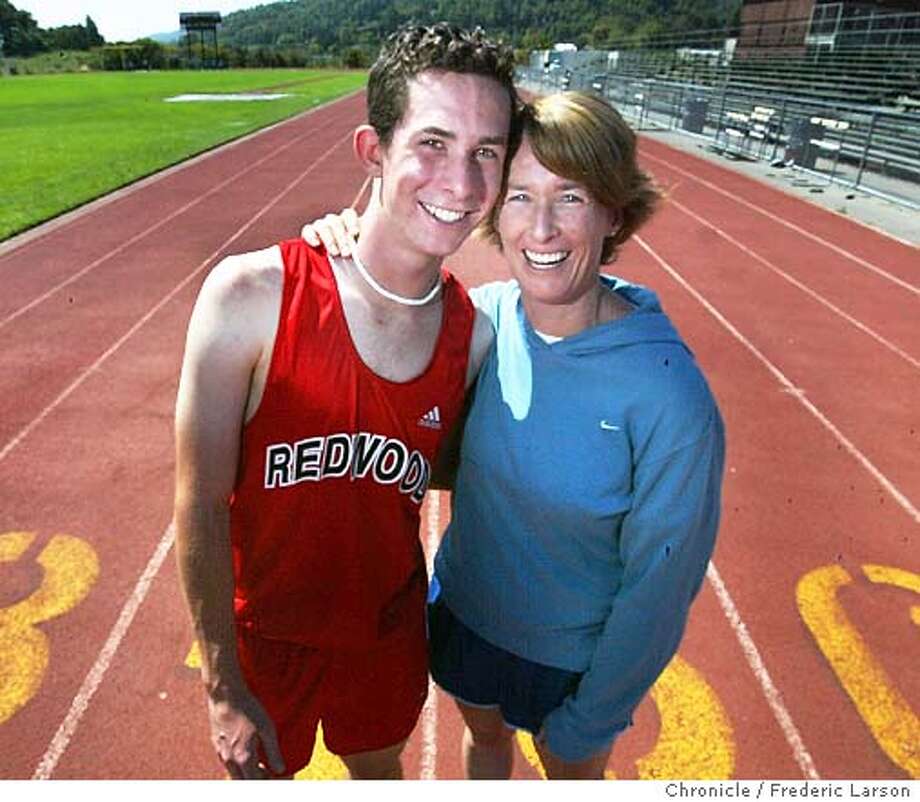 Today we chat with former UC Berkeley runner and current Redwood HS coach (now retired), Laura Schmitt. Many of you may know Laura in many capacities including runner, coach, and mom. Laura's children all had outstanding high school careers include Jake who graduated from the University of Washington, Meagan who played Div. I. Volleyball at Cal and Caitlin who is currently attending and competing at UCLA. Laura was a tremendous competitor in high school and eventually was inducted into both the Redwood HS and Marin Hall of Fame. She is still competing and best of all, she is now joined on the Redwood HS coaching staff by her son Jake (photo to the right thanks to Frederick Larson and SF Chronicle).
1) How did you get your start in sports as a youth?
My parents put both my brothers and my sister and I on the swim team as soon as I was able to swim. I swam with my sibling year-round through my junior year at Redwood. My first introduction to competitive sports was weekend swim meets. I began running because I wanted to join my dad on his daily runs. He was the only person in the neighborhood who went running back in those days and I just loved the feeling I got when we went running together.
2) What sports did you compete in during high school and what were some of your highlights?
I was a swimmer until my Junior year at Redwood and had a really tough time giving it up for running. I started running cross-country in my junior year and fell in love with the sport. We had an incredible team and I am so fortunate to have been a part of it. My coach Ray Jacques said that if we got top 3 at Northern California Championships, he would shave his beard...and he did. One great track memory was running State Meet at Hughes Stadium and hurrying back to Redwood for my Senior Ball with my then-boyfriend (now husband)...we ate Togos sandwiches in the car and took a quick shower...every time I take my team to Hughes I think of that night.
3) Tell us a little about your college years, what sports did you compete in and what were some of your highlights there.
I competed for 4 years in cross-country and track and field at UC Berkeley. There were so many incredible moments and memories that were created during those 4 years. I have stayed close with all of my teammates. Qualifying for Nationals was one of my favorite team memories. Traveling across the Country to Pennsylvania with my closest friends and Coach, for a common goal brought us together and created a bond that still lasts today.
4) What led you to transition to the coaching part of the sports of cross-country and track and field?
It was clear to me that I wanted to coach after my first cross-country season at Redwood. I wanted to connect with kids the way that my high school coaches connected with me. Knowing that I wanted to coach and teach, I majored in psychology and got my teaching credential. When I started running at Berkeley my coach, Tony Sandoval, used to give us weekly workout printouts. I started keeping them and had 4 years' worth when I started coaching. I graduated from Cal in 1986 and started coaching at Redwood that Fall. I was back coaching with my mentors and was calling Tony for advice.
5) Who are and have been your coaching mentors (past and current)?
Three men, Ray Jacques, Doug Basham, and Tony Sandoval, are the first coaches that I mention because they had an early and significant impact on my coaching development. I am very close to all three and still coach with Doug "Flash" Basham. Jacques taught me to run for the love of it and not for the extrinsic rewards. Flash taught me to be a good human being. And, the most knowledgeable, Tony Sandoval, taught me how to teach the sport. They set up the foundation for my coaching.
I'm very fortunate to have a son, Jake, who ran for Greg Metcalf and is currently coached by Magdalena Boulet. I absolutely love Greg's energy and enthusiasm that he brings to his team and I have stolen more than a few great workouts. Magdalena is a brilliant coach who does everything spot on. She teaches the importance of balance. She models and coaches how to train at the highest level while living a well-rounded life.
6) What were some of the challenges that you faced as a young coach and what did you learn from that experience?
I was extremely lucky that I started with Jacques and Flash because they taught me about the love of both coaching and running. I didn't really have any challenges. One might think that coaching Varsity boys would be tough but it really wasn't. I love coaching boys!
7) You coached your son Jake and your daughter Caitlin during their high school careers at Redwood High School. Tell us a little about those experiences.
Well, I also got to coach our other daughter, Meagan, but she played volleyball in college (Cal). Jake, Meagan, and Caitlin are three very different athletes with very different personalities. I absolutely loved coaching each and every one of them. Like all my athletes, I allowed my kids to set their own goals and celebrated their successes as their own. I can't put into words how fortunate I am to have had this experience. We have a closeness that is indescribable. We have created memories that we will have forever. I can't wait to coach my grandkids.
8) From your experience as a competitor and coach in high school, what do you feel are the key components that are necessary to succeed in high school running?
Without a doubt, the most important component is teaching the love of the sport. If we, as high school coaches, teach this, we will have happy, more successful runners. Additionally, I believe everyone needs to be kind to each other and be at practice every day, regardless of ability, prepared to run. Being on a team is a privilege.
9) You are still an active competitor. How much running do you do yourself and in what events do you compete in currently?

I run every day and double a few times per week. Typically I run a quality day on Tuesday and Friday and long on Wednesday and Sunday. I really base my racing around my kids and the team's schedules. Meagan just graduated from Cal so I'll have more open weekends to race. World's Masters was in Sacramento at Hughes Stadium in July. I ran the 5,000 and the 10,000. Jake is my coach and I am going with him to run Falmouth on August 14th.
10) From your experience as an athlete and now as a parent and coach of current and past collegiate athletes, what would be your advice for prospective college athletes?
I have several athletes contacting coaches right now and my advice is to reach up to your highest goal. I really feel that if you can stretch out of your comfort zone you'll rise to the next level. This applies to all facets of your life. I also advise kids, when selecting a college to think about what they will contribute to the team rather than what the school is going to give them. I believe this makes for a more positive relationship. I also let them know that Freshman year is hard, no matter who you are, and it should be.
11) Your son Jake started coaching with you last year. What has he added to the team and what have you learned from him now that he is coaching with you?
Jake has had an immediate impact on our team. I think one of the most important things that he has taught our kids is that he really cares about them and their well-being. He takes the time to talk to every athlete and answer every question. Our kids feel safe with him. He has also shown them that loving something isn't always easy. Running is hard, being consistent is hard, but the payoff is worth it.
I started learning from Jake long before he started coaching with me. He has taught me to pursue what you love and take risks. He knows so much about the sport. I love dissecting workouts, meets, and seasons with him.
12) Anything else you would like to add.
Never in my wildest dreams did I think that running, which started out as a fun thing to do with my dad, would have had such an impact on my life. I met my husband at a track meet in high school, my closest friends and mentors are all from the track world, I get to coach at Redwood and I have the amazing fortune of running and coaching with my kids. I love running.
Thank you very much for your time, Laura! AJC