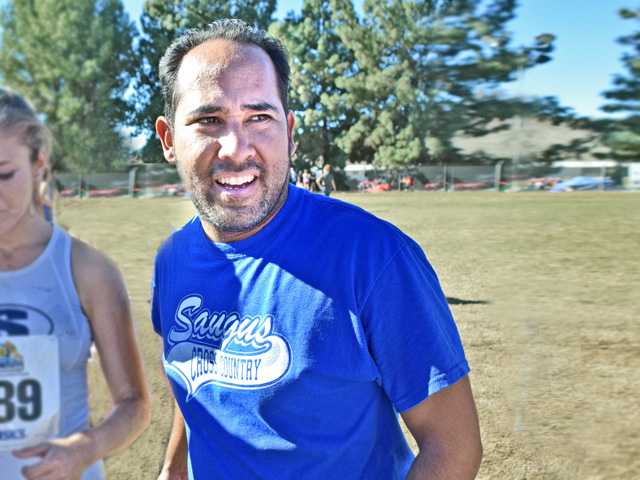 Saugus coach Rene Paragas announced his retirement yesterday. Here is my interview with Coach Paragas from July 22, 2008. During his tenure, his teams won 10 state titles (9 girls and 1 boy) and made the podium (top 3 finish) a combined 19 times.
=====================
What school fielded the best girls' xc team in CA in 2007 (and 2006 for that matter)? The answer is a clear and definite one and that is Saugus HS. They broke 7 course records during the '07 season including the CA state meet team record by 32 seconds. Their lone loss was at the Nike Team Nationals (NTN) race as they finished 2nd to one of the best girls' team ever, Fayetteville-Manlius HS. They will once again be the favorites to win their 3rd consecutive CA state meet division I crown as they return 4 out of their top 5 girls from last season.

The following is an interview with their coach, Rene Paragas (Santa Clarita Signal photo) as he was gracious enough to answer my questions. Enjoy!
1) How did you get your start in distance running and tell us a little about your competitive time in the sport?
I started running in junior high school PE. I wanted to break 5:00 in the mile. Never did though. Got down to 5:11. In 1994 I graduated from Hart HS in Santa Clarita with a best of 1:55 for 800m. Then went on to El Camino CC where I made the state meet two years in the 1500m with a best of 3:55, before finally earning a degree at Cal Poly Pomona. I was pretty much injured my whole time at Cal Poly.
2) What led you to choose teaching and coaching as your profession?
In my early days of running, I wanted to have good XC teams and I used to try to convince my friends to run, organize Saturday workouts, design training programs for myself. I guess that's where I first had the desire to coach. As I got older I realized that teaching would be the best profession for me and my degree (history) if I wanted to coach at the high school level.
3) What do you think are the biggest changes in the sport of cross country that you have seen between your competitive time and now?
People are training harder. Mostly running more miles. When I was running there was a big push for lower miles and cross-training. Now it seems to me, people have made it more simple and are simply running more. And then there are the year-round club sports that are making it very difficult to get kids to run. Soccer, volleyball, etc. There were more multi-sport athletes back in the '80s and '90s.
4) Who are your coaching mentors that helped you become the coach that you are today?
My own coaches: Thom Lacie, Dave Klinger, Gene Blankenship, and Dean Lofgren.
Plus I'm a big fan of Jack Daniels and Arthur Lydiard.
5) How long have you coached at Saugus HS and did you coach anywhere else before?
This will be my 5th season of coaching the boys at Saugus and 4th with the girls. Before that, I worked at a JHS where I coached a small group of middle school kids for 3 years.
6) What was the state of the program when you took over? What kind of changes did you make and what did you keep status quo?
When I took over the boys program, they had finished in the bottom two at league for 4 straight years, had only 13 boys on the team, and only one of them could break 5-minutes in the mile. We had 3 freshman recruits that first year. But the biggest problem was a culture of losing and apathy. That was my biggest challenge. Trying to get those kids to believe that they could compete with anyone. I tried to change everything I could to break away from the past. The same was true for the girls when I started coaching them the next spring in track. I wiped the slate clean and tried to build from the ground up. Many of the girls did not like that approach and we faced some difficult challenges.
7) Can you identify a runner(s) that helped elevate Saugus to the level that it has reached today?
Shannon Murakami's success during the 2005 track season really helped. She and her parents believed in me, allowing her to train at the level she needed to. Plus one of my first freshman boys was an awesome recruiter. He got his friends out the next year to run and they would go on to win two league titles.
8) What do you think attracts students from your school to come out for xc and track? What do you do personally to get students to come out for your sport?
It's extremely difficult to get kids to come out to run at Saugus. Saugus has long been known for its apathetic student body, not only in athletics but in academics as well. My biggest role is trying to change the culture of the student body in my own class. Trying to get them to have their own opinions and care about something. Heck, anything! In the 3 years that I have taught at Saugus, I've only been able to get 3 kids out of my class to run and it is not for a lack of trying either. I would say that one out of every hundred kids I talk to on campus even gives the sport a try with maybe half staying on the team.
9) What workouts do you consider as keys to the success of your program? What does a typical week look like for your team?
The key to our success is long term aerobic development. We don't mortgage our future with doing too much interval work. Every season is based on trying to increase our aerobic base for future years. The best way to do this is long runs and threshold work. Listed below is a late August/ early September week of training.
Sunday: 3-10 miles very easy OYO
Monday: 5-7x mile Cruise Intervals
Tuesday: 90-120 minute LSD with surges
Wednesday: 60-minute recovery run
Thursday: 20min Track Tempo with 200m Reps afterward.
Friday: 60-minute recovery run
Saturday: 8-10 miles on hilly trails at a high aerobic pace
10) Describe the training area around Saugus. Positives and negatives?
Saugus is paved over. There is a branch of the Santa Clara River that runs through our town for flat running, but the rest of the area is hilly.
The positives of training in our area are that we have hills, a large grass park about a mile from our school, an all-weather track and a flat paved bike path with no signals that go on for 5-miles.
The negatives is that it is hot, hot, and hot! Just about every day is over 90 degrees in our area until October with many days in the 100-105 degree range. It's also difficult to find runs that are not all pavement.
11) Tell us a little about your teams' NTN experience from the past two seasons. How do you get a team to compete well in the tough SS, the state meet, and then NTN over a short span of time?
I'm not a big fan of NTN. If I could, we would skip that meet altogether. But the girls want to run there so we do. The main goal of our program is to win the state meet and it showed our first year at NTN. We were cooked and sick by the time we got to Portland and ran awful. Embarrassed by our performance, I changed a few things to make sure we ran respectably at NTN. But to answer your question, you don't. It's just too many hard weeks of racing in a row. I felt we ran sub-par at NTN again, but well enough to get second. We just tried to focus on being tough, because physically we were dead by the time we got there.
12) Anything else you would like to add.
Nah, I'm good.
Thank you very much for your time, Rene!