This past Saturday at the Arcadia Invitational, a trio of Bellarmine boys added their names to the history books. Just a few weeks ago at the second Dublin Social Distance Fiesta meet, Bells senior Galen Topper raced to the first sub 9 performance in school history with a time of 8:59.29. On Saturday, Galen's twin brother Nolan raced to a 8:52.95 PR followed by teammate Colin Peattie at 8:56.73. That gives the Bells a trio of runners who have dipped under 9 minutes in the same season which is a significant achievement.
The first school to have three runners dip under the 9 minute mark for 2 miles was first completed by Hammond HS in Indiana by teammates Carey Pinkowski (8:56.2), Rudy Chapa (8:52.6), and Tim Keough (8:52.8). Those times were all for 2 miles and similar to the Bellarmine runners, Pinkowski dipped under 9 minutes first and then was joined by the other two teammates a few days later in a different race.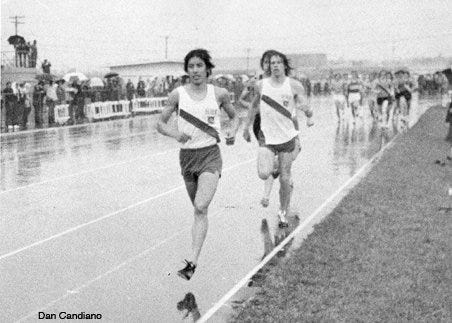 Fast forward to 2014 and Northport HS, New York, became the first high school to have three runners dip under 9 minutes for 2 miles in the same race at New Balance Nationals with Mikey Brannigan (8:53.59), Tim McGowan (8:56.60), and Jack McGowan (8:57.57) all rolling under 9 minutes (Glen Reed photo below)
This year's Arcadia Invitational was open to only California teams. An amazing fifteen runners dipped under the nine-minute mark which included the two Bellarmine boys as well as four Newbury Park runners who now lay claim to being the only school to have four runners run sub 9 in the same season and more significantly in the same race.
On behalf of this website as well as many impressed NorCal runners and coaches, congrats go out to the trio of Bells as well as their coach, Patrick McCrystle for an amazing achievement.

Ok, so not
quite done with this article. The following information was passed along to me by dyestat.com editor
Erik Boal. Here is a list of schools with at least 3 runners who have run faster than 9:00 for 3200m.
Jesuit now has 8
Newbury Park (California) has 6
North Central (Washington) has 5
Northport (New York) has 4
Bellarmine Prep (California) has 3
Big Bear (California) has 3
Edison (Huntington Beach, California) has 3
La Salle Academy (Rhode Island) has 3
South Eugene (Oregon) has 3
The Woodlands (Texas) has 3