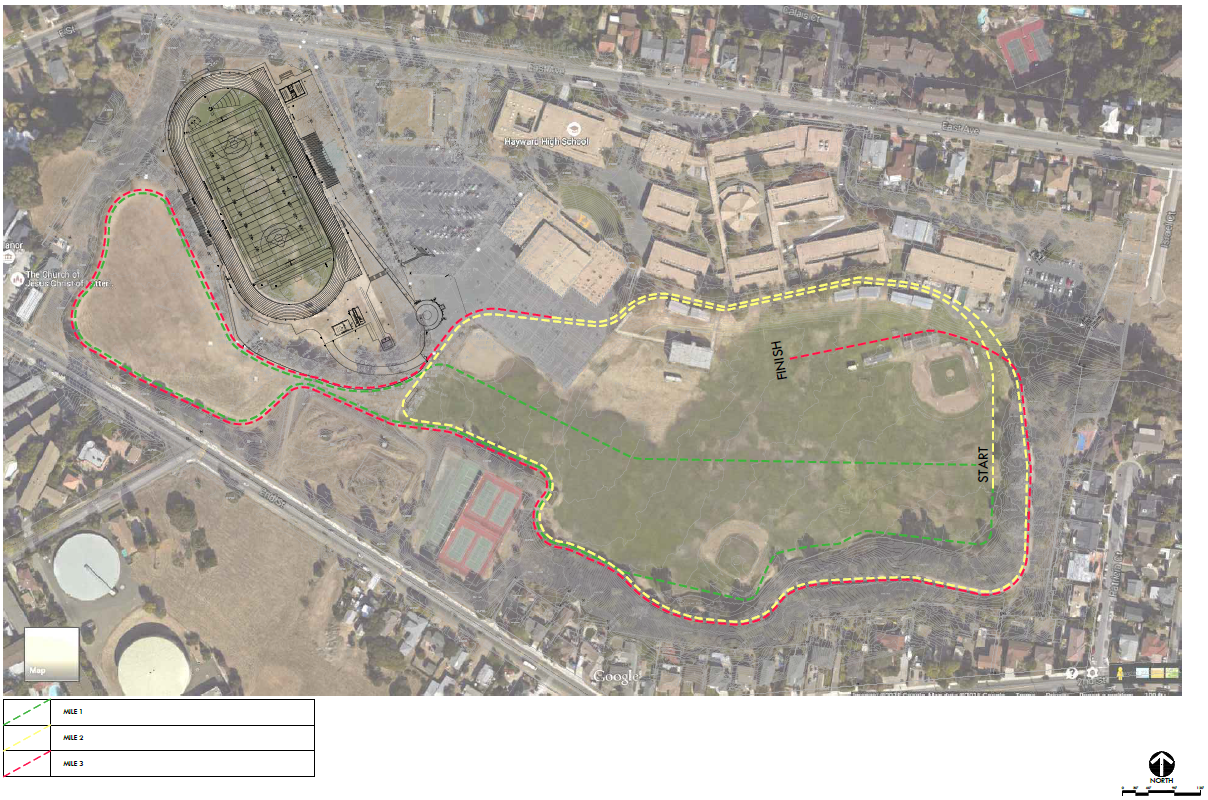 Overview:
Much like their male counterparts, the 2016 NCS championship came down to the wire between Campolindo and Redwood, with Campolindo prevailing to win their 4th consecutive team title. With the Cougars returning most of their team from a year ago they are primed to capture yet another title. Maria Carrillo returns a strong contingent of runners and will look to improve upon their 4th place finish from a year ago while the 3rd and 4th positions are wide open.
"Campo" seeks to capture their 15
th
girls team title since 1996 and are the heavy favorites now. Not only do the Cougars return their entire scoring 5 from last season but they are all coming off impressive spring track seasons.
Hannah Ruane
and
Isabella Chao
were dynamite last fall as they both finished in the top 10 at state and that success continued this past spring with Chao running
10:51
in the 3200 and Ruane running
5:02
in the 1600. However, the emergence of
Jenna Miles
has really tipped the scales in Campo's favor with the senior breaking out at MOC running an astounding
10:49
for 3200. With these 3 leading the way it will be tough for any team in the division and as usual, the Cougars have plenty of depth to back them up. Last year's #4 scorer
Jessie Foxworthy
also had a solid spring in running
11:53
for 3200.
Paloma Hancock
(
5:33
,
12:24
1600/3200) and
Alicia Hober
(5:36/12:24) lead a strong contingent of underclassmen who dominated the Diablo Athletic League at the F/S level this spring and if they can continue their improvement curve Campo will be even better than advertised. As it stands now Campolindo should roll to another section title and challenge for a podium position at Woodward Park in November.
The Pumas return most of their 4
th
place team of a year ago, including their top 3 and will look to make another trip to Fresno come November.
Aimee Armstrong
had a fantastic track season in advancing to the finals of MOC in the 1600 and running
5:03
while
Sydnie Rivas
ran
11:36
in the 3200. Throw in
Talia Leano
, who finished 10
th
at last year's NCS meet and Maria Carrillo has a great starting point. Sophomore
Jasmin Hirth
flashed great potential during her track season in running
5:29
for 1600 as did
Megan Field
who notched personal bests of
5:39 and 12:17
for 1600/3200. Put these performances together and the Pumas will have a lot of momentum coming into the season and should be one of the most improved teams in the section by season's end.
The Cougars narrowly missed out on a state birth last season in finishing in 6
th
place, only 8 points away from the 4
th
and final qualifying spot. Look for Carondelet to get over the hump this season and secure a top 4 finish.
Clare Schumann
appears to be the frontrunner now, with her 3200 best of
11:28
being one of the top performances in the division and pointing to great potential for the fall. The Cougars have great depth backing her with
Dana Cross
(
12:12
3200),
Sofia Green
(
12:20
),
Kasey DeMaria
(
12:24
), and
Kelsey Dempsey
(
12:40
) all having massively productive track seasons. The challenge for Carondelet will be working on closing the back end of their scoring 5 and improving the pack margin between their 5
th
and 1
st
scorers. For now, the Cougars have set themselves up well to be in contention for a highly coveted spot on the awards stand and a thanksgiving trip down to Fresno.
The
Broncos
finished a respectable 8
th
at last year's NCS meet and they will look to make the big jump to contenders this fall. Northgate had an impressive track season, getting big improvements from many of their projected top 5 runners, with
Sara Wheeler
(
5:18
) leading the way. Also notching big personal bests in the 1600 were
Nichole Markiewicz
(
5:39
),
Jessie McCann
(
5:39
)
Jessica Biddle
(
5:44
),
Sydney Kupsh
(
5:47
), and
Isabelle Antolin
(
5:48
) who should all play big roles for Northgate in cross country. They were also solid over 3200, with Northgate returning 5 under
13:00
. The biggest advantage Northgate has is that they will get to face off against top ranked Campolindo throughout the season in the Diablo Athletic League, which will give them a good barometer for how they stack up against the best in the division.
The Hornets had a magical season last year in capturing a 3
rd
place finish and advancing for to the state championships. To get back there this season, Alameda will have some work to do. While standout
Lauren Lum
was impressive this spring in running
5:04
for 1600, depth was an issue as only 2 other girls broke
5:40
in the 1600. To match up against the teams ranked ahead of them, Alameda will have to continue to work at bringing some of their younger athletes along and get them closer to the 2-5 scorers of Northgate and Carondelet. While they have a big advantage in bringing back their top runner, the biggest determining factor to their success will be the development of their 4-5 scorers (as is always the case for cross country).
Katie Gee
(
5:36
1600) and
Allie Cvitanovic
(
5:39
) both had great track seasons but it will take big step up performances from both
Rachel Wellman
(
5:52
) and
Elizabeth Cho
(
5:54
) for the hornets to get closer to the depth of teams like Northgate and Carondelet. As it stands now they are slightly behind those teams in the race to land a berth to state.
Individual Rankings
1.
Gillian Wagner
(Redwood) – Last year's NCS/State runner up was on fire during track season, ripping a
4:53
for 1600 and sub
10:00
for 3000 and will be tough to beat
2.
Hannah Ruane
(Campolindo) – Consistent performer for Campo who will benefit from training with a talented group of teammates.
3. Isabella Chao (Campolindo) – One of the biggest improvers in the state last season in landing a podium finish at state and will be even better this fall
4. Jenna Miles (Campolindo) – Huge breakthrough at the end of the track season and will look to continue that momentum
5.
Rayna Stanziano
(Concord) – Flashed potential last fall but really impressed during track season in advancing to state in the 1600. Remains to be seen if she can translate that to the longer distance but the potential is there
6.
Aimee Armstrong
(Maria Carrillo) – Steady performer who notched a big personal best in the 1600 running
5:03
at MOC and will look to challenge for the top 5.
On the Bubble: Lauren Lum (Alameda), Veronica Towle (Las Lomas), Talia Leano (Maria Carrillo)