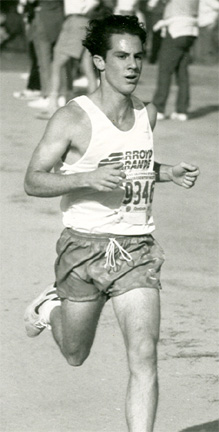 Originally posted August 19, 2010. Quintana is now the new head Track and Field/Cross Country coach at Oregon State.
=============================
Today we chat with former high school phenom, college All-American and current Arizona St. coach, Louie Quintana (photo to the left by Elaine Rosenfeld/photo below courtesy of http://thesundevils.cstv.com). You can check out his bio as part of another interview done by Doug Speck in 2004 at the following link:
http://www.dyestatcal.com/news/xc2004/September/04QuintInv.htm
1) Going back to the beginning of your running career, how did you get your start with cross country and track and field?
I got my start in running when I was in junior high school. I was in 7th grade and my PE class had a 6 week cross country unit. Every day we would run a 1.5 mile course and our times got recorded. My PE teacher kept a top ten list and it was posted on a huge board in the locker room…it was a very big deal to get on the board. I wanted to be on the top of the list and when I got to the top I wanted to run so fast that no one else could beat my time.
2) When did you first realize your talents in the two sports? What were some of your successes during your first two years in high school?
I felt that early on I had the potential to be pretty good. Running was effortless in many ways for me growing up. I was always the fastest on my baseball and basketball teams and was always singled out for being the "fastest." Naturally, I gravitated towards cross country as a freshman and experienced immediate success. 1987 was the first year of the California High School State Cross Country Meet and there was a lot of buzz around the sport that year…I finished 7th in 15:30 at Woodward Park and the rest was history.
3) What are some of your proudest accomplishments in high school in both sports? Who were some of the more notable competitors?
I had a couple of moments that really stood out in high school. Ironically, both coming during my sophomore year of high school. First, our team won the 2A CIF Cross Country Title…it was one of the most exciting moments of my career. It was the first and is still the only title my high school ever won in Boys cross country. Second, a few weeks later I PR'd by 25 seconds and ran 15:02 at Woodward Park to finish 5th at the Kinney (Now Footlocker) West Regionals to make the national meet. I was stunned after the race…I can still remember how much that race hurt…it seemed like I was red-lining the whole way…I was determined not to break.
4) Looking back at your high school training, what do you feel really worked for you and what do you think you could have done differently?
I think that my training was really sound. We were a moderate mileage team and I think physiologically we had a good plan. If I could have done anything different I would have been more disciplined with the little things. I ate like crap and was very inconsistent with my long run. Sometimes I would run on Sunday and sometimes I wouldn't.
5) How did you end up choosing Villanova and what were some of your accomplishments ther
e?
I had a lot of options during my Senior year. Looking back on it, I was pretty naïve about the recruitment process and have a very narrow scope when looking at schools. That's not to say that I was looking at bad programs, it's just that I didn't do a lot of research and was quick with saying no to some schools. I definitely liked my recruiting trip to Villanova and was hosted by Terrence Mahon (Team USA California Coach Now)…he was a big influence on my decision to attend Villanova. He was a fellow Californian who was having success as a student-athlete and he was helpful with me making the transition across country. I had a moderately successful career at Villanova, but maybe not as successful as many would have projected. I was an All American 9 Times and finished 4th at the NCAA Cross Country Championships when I was just 19. I was banged up quite a bit during my career, but managed to string together some memorable performances.
6) What was the biggest positive change for you in terms of your training?
The biggest positive change was the long run and that really didn't come into play until my 2nd year at Nova. I ran 3:41 as a freshman for 1500m and I was really doing a lot of speed work. My coach, Marty Stern and I, starting to reflect on my disappointing freshman cross country season and we made some adjustments in the training. Mainly, adding a 15-18 mile long run on Sunday. I was real consistent in my training and my confidence just grew. I began to dream everyday that I would win the NCAA Title that fall. Every run I envisioned racing side by side with Bob Kennedy. I progressed fantastically that fall and finished 4th at the big dance.
7) Who inspired you to get in coaching and when did you realize this was what you wanted to pursue?
I think that I secretly always wanted to get into coaching. My Dad was always a coach while I was growing up and I really respected his ability to reconstruct bad teams and get them to believe. I've always been that way I guess. I never wanted to be on the "IT" team, I always liked to play for the underdog. It was probably my biggest reason for choosing Villanova. They hadn't made the NCAA in cross country for over 10 years and I was adamant to change that. I think that was my biggest attraction to Arizona State in the beginning. I wanted to work with Walt Drenth who was known for turning programs around…that really excited me about ASU.
8) Who have been your coaching mentors?
Walt Drenth and Greg Kraft at ASU have really showed me the way. I spent many an afternoon and early morning just soaking everything in from Coach Drenth. He is one of the best college coaches in the country. I admire Coach Kraft's ability to construct a well rounded track and field program. He has really been the most influential coach that I have come across in my career.
9) How did you end up at Arizona St? How long have you been the head cross country coach? What are some of your proudest achievements for your teams?
I started at ASU in the Winter of 2002 and really was the product of fantastic timing. ASU is known for it's mentoring of Graduate Assistants and I called Walt Drenth that fall to put my name into the hat to be the next GA. They currently had a GA (Corey Ihmels – Now the Head Track Coach at Iowa State and Coach of Lisa Kohl). Corey got offered the Cross Country job at Iowa State that Fall and Walt called me immediately. I packed up and moved to Tempe with my wife who just happened to be from Phoenix. It really was just great timing. In 2004, I took over the duties of Coaching the Cross Country and Distance team…so I'm going into my 7th season as the Head Cross Country Coach. We have been fortunate to really have some great moments and achievements these past few years, but one of the achievements I'm most proud of was the 2007 Women's Cross Country team that finished 4th at the NCAA Cross Country meet. That team defied expectation that day. They just believed they could do anything.
10) Since your days of competing in high school, what do you feel have been the most important changes in how runners train today?
Biggest change is access to information. There is great info out there that is easily accessible that has really helped how young distance runners train. We are seeing our great distance runners develop a greater aerobic foundation that is beginning to pay off at the international level. I think we'll see several more distance runners from the US run under 13 minutes for 5K over the next 5 years. It will be extremely difficult to make US National teams.
11) What is your advice for high school coaches who want to have competitive teams year in, year out and have students who have a positive experience in cross country?
I think at the end of the day we want the students to really come to enjoy running. We want them to continue to pursue running as an integral part of their lives. It doesn't matter if they continue competing in college, but if they enjoy running it will change their life.
Thank you very much for your time Louie! AJC