Today we catch up with one half of the dynamic coaching duo at Granada HS, Jeremy Mattern. Of course, the other half is his brother Noel who I interviewed way back in 2010. You can check out the interview at this LINK. Over the past decade, Granada has been one of the strongest cross country programs in Northern California including 11 section titles combined (9 for the girls and 2 for boys) as well as three podium finishes at the state meet (2017 3rd place girls, 2018 2nd place girls, 2021 2nd place boys). Jeremy started his teaching and coaching career at Brea Olinda in the Southern Section where he was super successful as you will see below before joining his brother at Granada HS in 2015.
1) What was your own athletic experience growing up? What sports did you play? High School highlights? College experience? College highlights?
I played Soccer for 8 years, but I was not very good. My brother, Noel, however, was a very good Soccer player. His high school Soccer coach, the late Bill Sinnott, also coached Cross Country at Irvington High School, and he convinced Noel to run his sophomore year. This, in turn, brought me out for running as a freshman. I immediately loved running because it was clear my own effort would determine much of my success. I earned the last All-League spot in the Mission Valley Athletic League my freshman year, and that really motivated me. I won the league title my senior year, but our team finished in 2nd, one point behind Mission San Jose. It's nearly thirty years later and I'm still upset about it.

I ran at UC Davis, but I wasn't very fast or tough. I ran on the Conference Championship team in my 4th year, which was fun. I'm thankful for supportive teammates. I just wish I had run way more.


2) What led you into teaching and coaching? Where did you teach and coach before Granada HS? Highlights?
After college graduation, I worked for two different toy companies, which I did not find very rewarding. Fortunately, my wife is incredibly supportive, and she encouraged me to try out coaching. I got hired as an assistant Cross Country coach at Brea Olinda High School in north Orange County, where I also served as a substitute teacher for a year. By 2001, I had a full-time teaching position and the boys' head coach job at Brea Olinda. Working at Brea was awesome. Despite the team not being very strong my first year or two, I was fortunate to have a solid group of very passionate athletes who wanted to be good. In 2002, we won the Century League title, and in 2003 we qualified for the State Championships for the first time in school history. We ended up winning quite a few league titles at all levels over the next 12 years. We won Southern Section titles in 2010, 2014, and 2015. We made the podium at State four times, and we won the Division 3 State title in 2015. I'm still pretty tight with some of my former colleagues, assistant coaches, and Wildcat athletes. My life would not be the same without those relationships.
3) What led you to teach and coach at Granada HS coaching with your brother Noel?
My brother and I always talked about coaching together, and I always wanted to move back to the Bay Area. My kids were young, and it made sense to move closer to family (my parents and my brother and his wife live in Livermore). A teaching position opened at Granada, so we made the move. Things were really good in Brea. It was not an easy decision to move. I left a very strong team (they won the State title in 2016). My wife left a great job at Cal State Fullerton, so I'm extremely thankful she agreed to move.


4) Throughout your running and coaching careers, who have been the most influential coaches for you, and what have you learned from them?
Bill Sinnott and Bobby Grubbs influenced me a lot in high school. They definitely made me love the sport and instilled some level of toughness in me. Both were very honest with athletes about their effort, and they taught me to be accountable to myself and to the team. Phil Wilder at Moreau changed my life. He hosted fun runs and a running camp, and allowed my brother and I to join their group on all the cool trails in the East Bay. He was so kind to everyone, and he made all student-athletes feel valued. Plus, he's one of the wittiest people you'll ever meet. The late Pat Hadley of Valencia HS in Placentia shared much of her time and knowledge with me. She put together photo albums for every athlete in her program. She really inspired students to love running and to be a part of a positive team culture. I learned about team-building from her. I would be remiss if I did not mention my brother. Noel is a super hard-worker. He's also not afraid to put ego aside and learn from others. He's constantly reading about coaching methods and training plans. Coaching with him is fun because we don't rest on our laurels; we're open to new approaches. I'd also credit my parents and grandparents as influences on my coaching. None of them knew anything about distance running, but they were experts in resilience. We were working class, and my family happily navigated tough times with a belief that you could always do a little bit more to be a little bit better.


5) Granada is in a super competitive league (EBAL) for both XC and TF. Tell us a little about the league and how competitive the league is for those that are not familiar with the league.
I love coaching in EBAL. Every year we have multiple teams that win NCS titles and finish in the top 10 at the State Championships. It's very challenging to win an EBAL varsity title. After winning something like 12 of 14 varsity boys' league titles while coaching in the Century League, it's humbling to have never won a boys' varsity EBAL title in six chances. I think Granada boys have been second every year in EBAL over that period--even when we finished 2nd at the State meet! It's competitive because of the level of dedication of the coaches. This is the hardest working group of coaches I have met. I have tremendous respect for not just the head coaches, but also the assistant coaches in our league. From hosting major invitationals to helping with NCS XC and Track championships, you will see EBAL coaches enthusiastically giving back to our running community. We model dedication and we expect our athletes to be committed. The athletes put in work. A few years ago, we had an athlete run 4:22 at league finals and finish 9th. The league has some serious depth.
6) Granada has had a lot of success including multiple section titles and podium finishes. What would you say are some of the keys to your team's success? (2017 3rd place state meet finish above)
This goes back to the previous question. It's all about dedication and enthusiasm. It's important to set high goals and to have an understanding of the work involved in achieving those goals. It's so inspiring when athletes get truly committed and aspire to be the best version of themselves. We've had many average-ability students develop a love of running and transform themselves into very successful competitors. It's all about putting in miles and not making excuses. Not every group has the same level of dedication or understanding, but we try to teach cause and effect to our athletes. We have been fortunate that many athletes have embraced the runner's lifestyle and the training needed to be good. We think everyone is important and everyone can improve if they are willing to work. It's simple but very challenging.
7) What are the expectations for the runners during the summer? Is there a team camp?
We expect runners to practice over the summer. If you do not show up to practice, it's pretty much impossible to be good unless you are insanely talented. Most of us are mere mortals, so we need to run all the time. We have not done a team camp in a few years, but we would like to bring that back at some point. We like going to Pt. Reyes.
8) What does a typical week look like for your team? Approximate mileage for varsity runners? Typical workouts? Distance of long runs? Ancillary training?
A typical non-race week for our team looks something like this:
Monday: threshold run
Tuesday: easy mileage
Wednesday: race pace work
Thursday: easy mileage
Friday: speed workout
Saturday: long run

The approximate mileage for varsity runners varies a bit. Most of our varsity boys hit 50-60 miles during a non-race week, though some may run less. A typical speed workout would be 2 x 600, 2 x 400, 4 x 300 at mile effort. Our boys run 10-12 mile long runs.


9) You have been a coach in both the Southern Section and the North Coast Section. What would you say are the keys to being successful in those two sections and then being able to also compete against the best teams in the state in late November?
I don't think there is too much of a difference between coaching in Southern Section versus North Coast Section, though there are way more schools in Southern Section, so it's harder to win section titles. There aren't any fast courses in northern California, so that hurts us at the State meet, as we're just not as accustomed to racing as fast; the first mile at Woodward Park is blazing and the field is dense. But really, it's all about getting kids to buy into the sport. If you do that, the team will be good. We have been fortunate to get boys and girls onto the podium in Fresno. It's super tough. I think athletes need to be extremely strong physically and mentally. Gosh, I don't know the secret to Woodward Park. I have left there disappointed many times. Ken Reeves, Rene Paragas, Chuck Woolridge, and Doug Soles have it all figured out--ask them!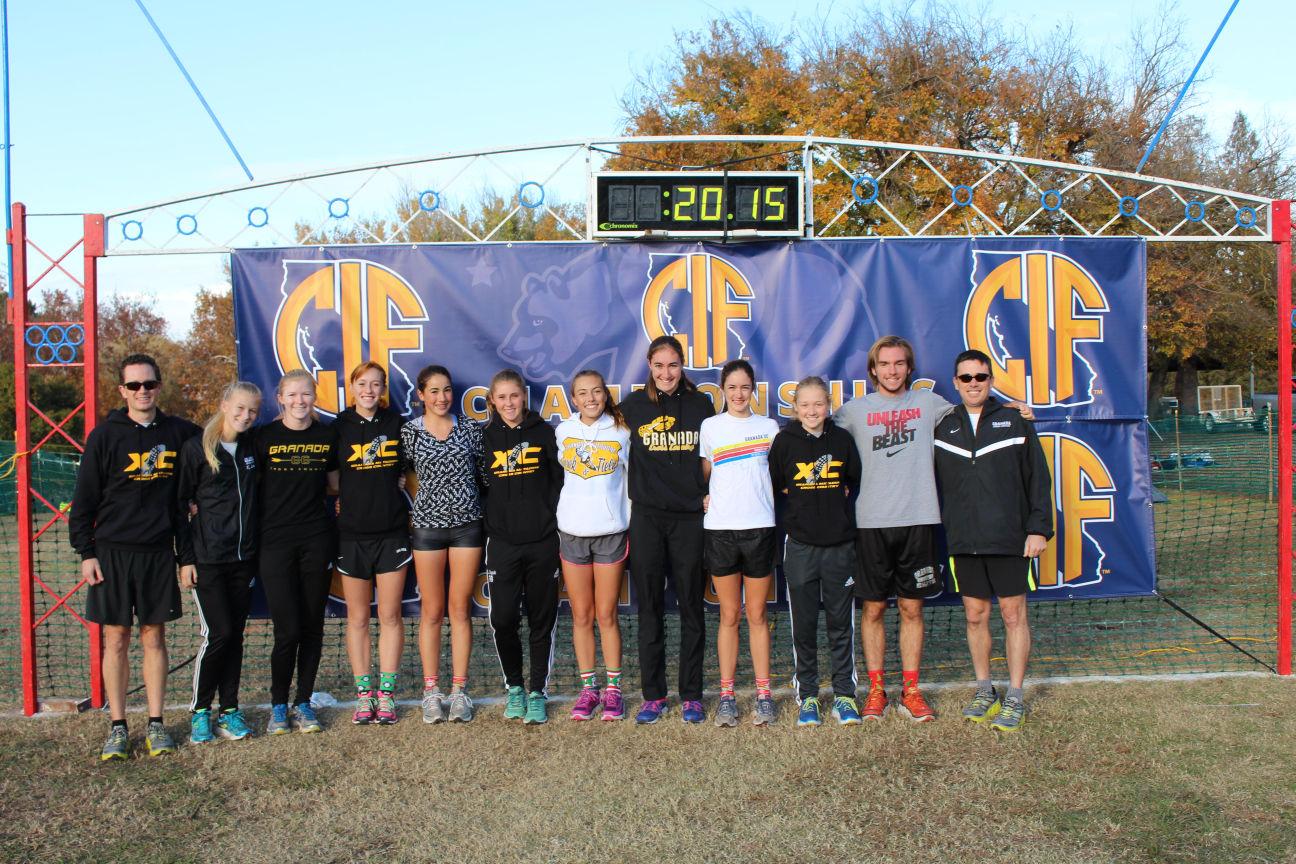 10) From your experience as a runner to now, what do you feel has changed the most for high school runners? What do you feel has changed for the better? Is there something that you wish would come back?
I wish I had run more miles than I did in the 1990s (the low-mileage dark era of American distance running). The average high school Cross Country kid today runs more than the 1990s counterpart. That's why there are so many good teams and so many fast runners. It's also cool that there is so much hype around meets. Many meet directors work hard to create a memorable experience for young people (George Varvas, Chris Williams, John Pelster, Jason Oswalt, Noel Mattern). I can't really think of anything I wish would come back--except running posters. Why is it so hard to get a poster of professional runners? Track agents and marketing teams, get on this!


11) What is your advice for a young coach just entering the coaching field with aspirations of building a successful program?
I'll steal a line from Doug Soles. "The quickest way to get your runners to improve is to have them run more miles." There should not be a negative stigma around running more. Love running. Go run!
12) Anything else you would like to add.
Thanks for the opportunity to share my story and thoughts. We all appreciate the work you do at Cross Country Express!
Thank you very much for your time, Jeremy!